I never like the idea of talking about important events before they've happened and you're sure how they will turn out. This definitely applies to our sows when they farrow because there are a multitude of things which could go wrong if you stop to think of the worst.
Although I make sure our sows are handled regularly and familiar with having us close by, once they move into the farrowing shed near the house in preparation for the event I still get concerned that unforeseen problems could come up.
So far I've been quite lucky and had mostly problem-free farrowing for all our sows – only rarely does a situation come up which means that the vet needs to be consulted. I like to think that our native rare breed Tamworths are made of strong stuff with a good constitution but I'd still rather be prepared just in case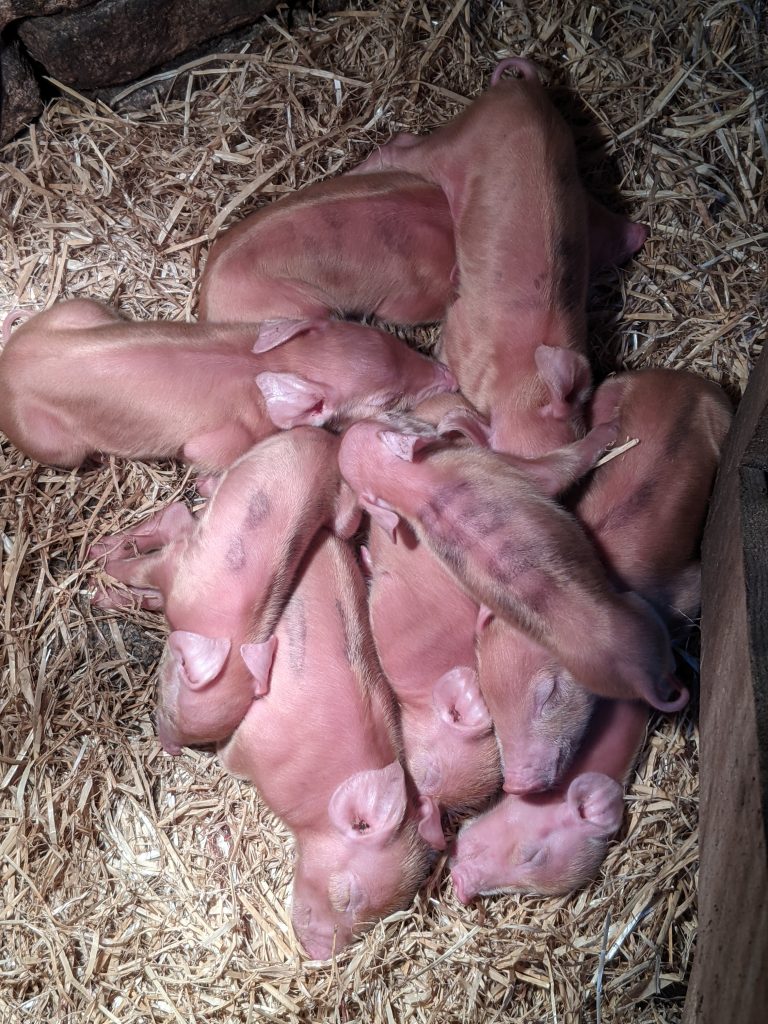 This latest farrowing for Fifi was one of the smoothest I've ever had and, apart from it starting at 2am onwards, it was a real privilege to be there the whole time. It also made a change from the winter farrowings we've had because I could happily sit with her in just a t-shirt and jeans instead of the full kit of jumpers, coat, thick socks etc.
By the time the sun was fully up on Weds 14th July, Fifi had delivered 9 live piglets – 5 gilts (girls) and 4 boars (boys) – which is remarkably consistent because her other 2 previous litters were also 9 each time. She did have some piglets that were stillborn this time (despite my best efforts I couldn't save them) which is tough to take for me but that's all part of the process and she has enough to keep her fully occupied anyway.
They'll spend about a week or two in the farrowing shed until they're strong enough and curious enough to move to our designated piglet pen in the woods. In fact this move will have to wait until I finish preparing that pen but I've still got a few days before it's needed
Right now the farrowing shed is their whole world and that's more than enough to occupy them as they explore all corners when mum isn't looking. After some feed which is at least 3 times a day, Fifi does like to go outside for a wander and to make use of the toilet facilities in the woods but I'll save that treat for the piglets once they're a little bigger