Since we moved to our smallholding almost exactly 6 years ago, we have made the Northumberland County Show a fixture in our calendar for us on the second Bank Holiday Monday in May.
It's always an entertaining day out but this year was our first ever attempt at showing pigs there so I made sure my expectations were suitably low. Not least because it would be a long and slightly traumatic day out for all concerned if everything didn't run smoothly.
As it turned out I needn't have worried because our Tamworths were impeccably behaved. They coped very well with the attention and the crowds didn't seem to phase them too much.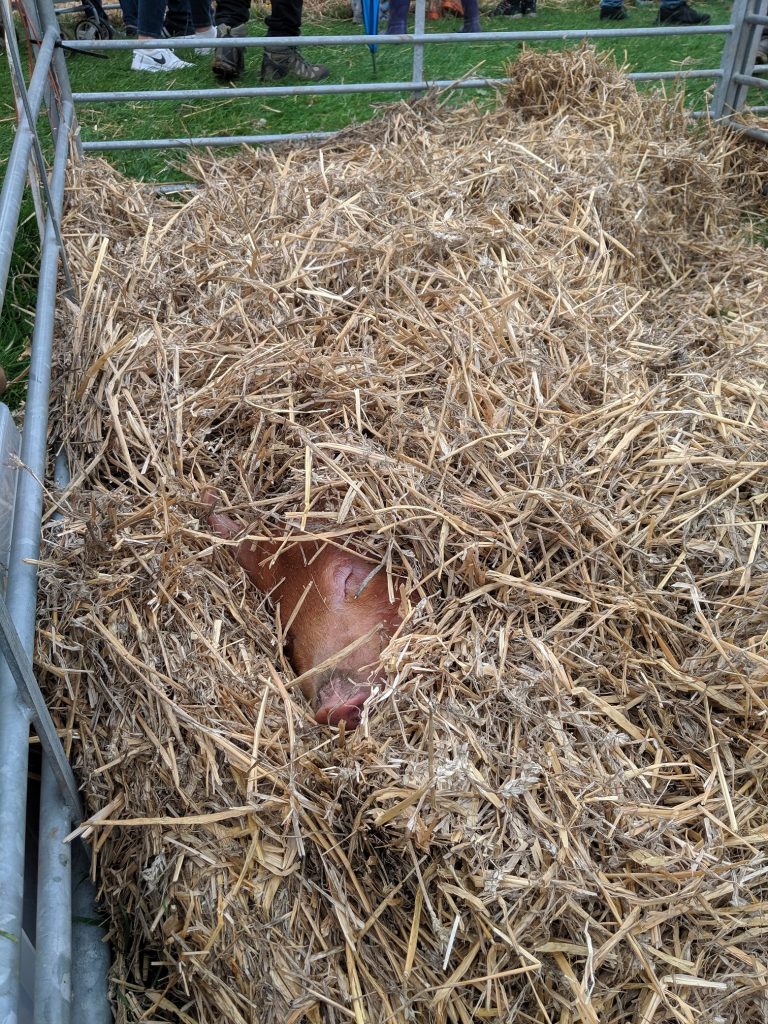 As might be expected, I was more concerned about the showing and judging aspects than the pigs were. However this part always seems to be a certain type of organised chaos with pigs wandering in all directions so our 2 fitted in very well.
We had only entered 2 classes – one for Traditional Breed Sow (Sissy) and one for Traditional Breed young gilt (Fifi) – so the hope was we'd maybe have one rosette as a reward for our combined efforts by the end of the day.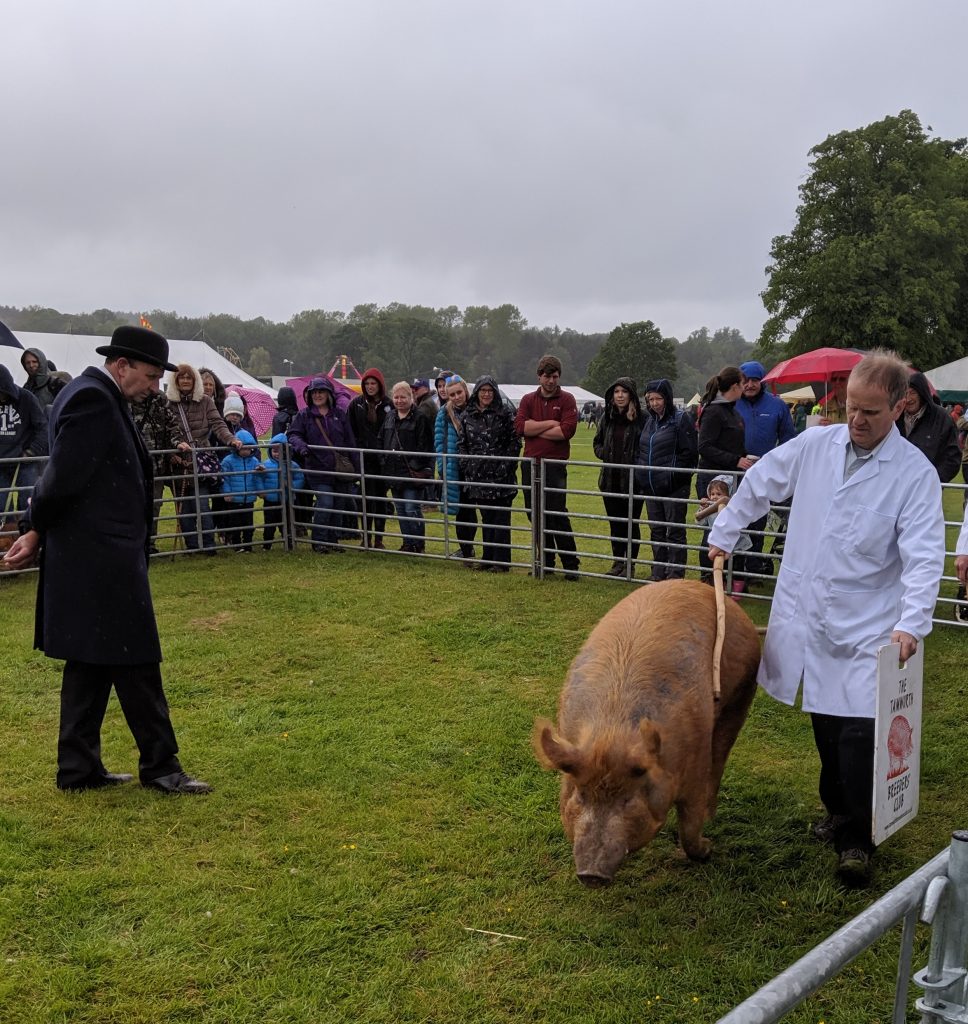 Right at the start of the day we had a small setback when Sissy must have stood on Fifi's back leg at some point during the journey. Luckily the excellent show vets were able to check her over (it was just a bash, nothing broken!) and gave her an anti-inflammatory injection which really helped.
Sadly though she was still limping during the judging of her class so she was marked down as a result and only got a 5th place. However I'm proud of her for battling through in such difficult circumstances.
Things soon looked up though and by the end of the judging we had amassed quite an impressive haul of rosettes because Sissy came first in her class as best Traditional Breeds Sow.
The win in that class meant she went on to enter the Traditional Breeds Female class against winning female pigs of different ages from other classes. Happily she won that as well to be judged the Traditional Breeds Champion Female and also got another rosette for being the best placed Tamworth at the show.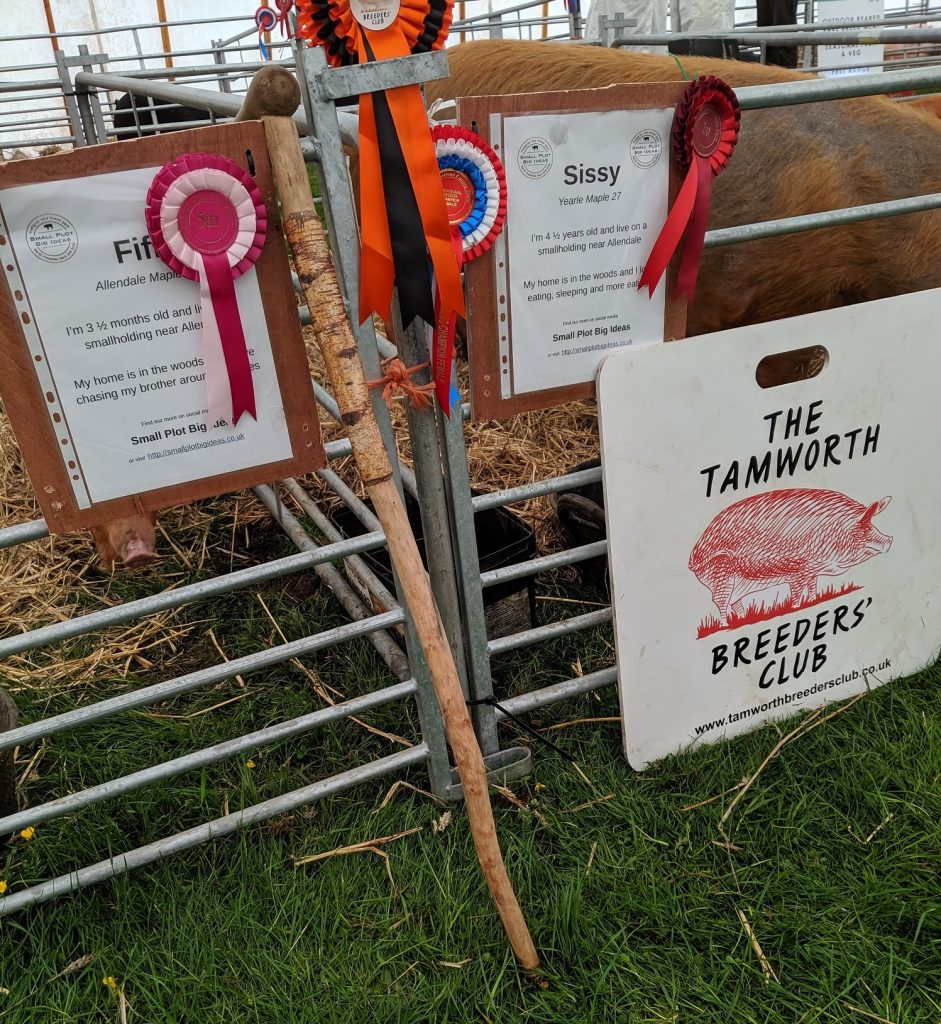 All in all it was a very enjoyable and successful day out but by the evening we were all happy to get back home to familiar and more restful surroundings
Maybe we'll try this again next year? Perhaps… but maybe not because it'll be difficult to match the achievements from this year!