After my first 2 attempts at bread making (white bread rolls and after that a loaf) had proved fairly successful if slightly stodgy, it was clearly time to up my game and try making brown bread.
We had a great time up at the Rothbury Food and Craft Festival yesterday which had lots of interesting local produce on offer including a tasty goat burger made with meat from Lakewood goats and some excellent Brinkburn goats cheese from Northumberland Cheese.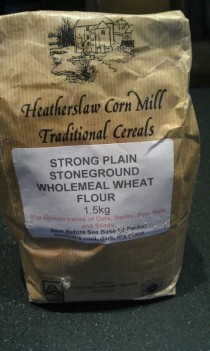 Apparently the goat burger was made by the clever butchers at  Blagdon Farm Shop so as we had never been there before we headed over afterwards for a flying visit.
I spotted this (probably over-priced) bag of stone ground brown flour which led to the idea of making some wholemeal bread.
The fact that it was produced relatively locally by Heatherslaw Corn Mill at Cornhill-on-Tweed was also an influence I suppose but I didn't need too much encouragement for a new bread experiment really.
After going through the process which is now fairly familiar to me, the dough was left to rise in the loaf tin on top of the oven as it warmed.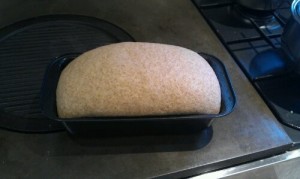 This time I decided to learn from the stodgy past experience and give the dough more time to rise – a total of 1.5 hours rather than 1 hour during my previous attempts.
Immediately before it went into the oven the whole thing looked very impressive and remarkably professional for me!
There followed a tense wait with much peering through the glass door on the oven while enjoying the fresh baking smells that filled the kitchen. Eventually it was time to take it out of the oven and assess the results of my efforts.
A truly majestic wholemeal loaf and even when sliced it looked good… I think that this lunchtime will be wholemeal bread and goats cheese!