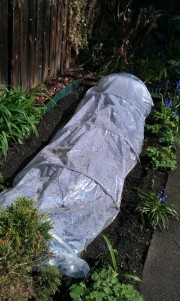 What a busy bank holiday weekend that turned out to be. Thankfully the weather was kind and I was able to finish just about everything on my list. It's good to see the new raised veg beds getting some use finally and all the effort getting to this point seems worth it at the moment.
The potatoes are now in the ground – there are only two fairly short rows but I have limited space for the moment so I am only able to put in a little bit of everything.
I've left a cloche over them for the moment as the weather forecast for the coming week seemed to be predicting some pretty cold nights. As we are near the coast any colder nights may not be a huge problem but I'd rather be safe than sorry.
Trust me though, there are definitely two rows of potatoes under that plastic in the picture and hopefully I have planted them far enough apart unless my measuring went wrong!
The carrots have also been planted out now and they were kept in the toilet roll tubes which made planting a really simple task. I have also recently come across this old page on the web which claims that this approach helps to prevent pest problems too!
They might have been just a little too small to plant out but I figured that as they should really have been planted directly into the veg beds in the first place then this won't matter too much.  By using the toilet roll tubes and leaving a cloche over them I think I've covered my bases fairly well.
Unfortunately the leek seedlings are just not quite ready for planting out as they are still only about 3 inches high and pretty thin, I would say weedy but that's unfair to my leeks.
However this minor delay is probably not a bad thing because the weather has still not warmed up properly here in the North East of England.
It doesn't seem to be affecting my garlic though because that is making great progress. I planted 3 cloves in this small terracotta trough (as well as in other locations) and they are already coming up strongly.
The bluebells in this picture look good as well!