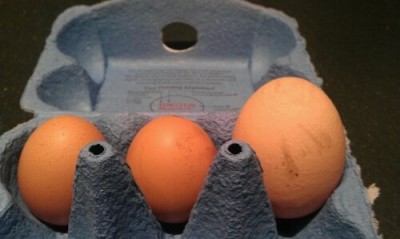 I'm not sure where this one came from but it was completely unexpected and out of all proportion with the normal eggs we've been getting.
In fact I'm not even sure which one of the three dropped this on us and we discussed the likely suspects but when I checked afterwards none of the chickens were walking funny.
There are regularly 3 eggs by mid-morning each day but nothing on this scale – the moment just had to be preserved for posterity with a picture and a dedicated blog update.
Right now it's still in the fridge for the moment as I think we're all a little nervous about what may be inside!