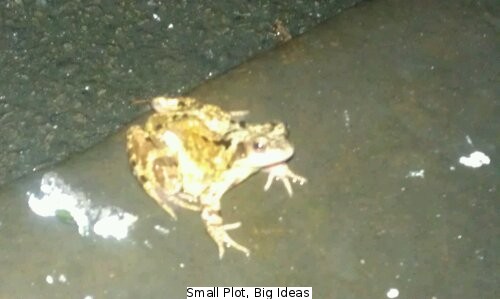 The other evening at chicken lock up time it was pouring with rain – nothing new there of course! However, as I went out the back door I spotted a small green visitor on the back step just at the last minute.
I don't think he realised how close he came to being under my welly boot or how unwelcome his visit might be with the lady of the house in particular. It is enough to say that she doesn't generally welcome uninvited visitors like this round at our house but of course with the weather being so wet there are quite a few around.
We're never certain where they come from but suspicion usually falls on the neighbours pond a few doors along. I've blocked up any holes at the bottom of our fence but a few still manage to get through apparently. I don't mind them though and at least they help to keep the slug and snail population down to a manageable level!
The visitor was last seen heading off under our bay tree after I moved them away from the back step. That should also be far enough from the hungry chickens to keep him/her safe for the moment.
It made we wonder though as we have also had a hedgehog in the garden recently and I'm not sure whether hedgehogs and frogs get along. Presumably they would compete for similar food sources but I'm slightly ashamed to admit that I don't know for sure so I'm off to research the subject!